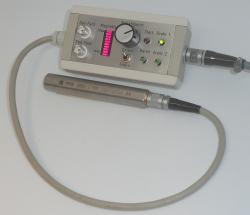 Sensor test box

The box is used to check the function oft he sensor during motor testing.
Display with LED:
Start
Ready
Direction of rotation
In addition, the stator magnetic field of the test object is displayed by bar graph. Furthermore, a disturbing static magnetic field can be compensated by means of a rotary knob.
The result can also be graphically displayed.
Additional Information: Click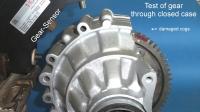 Sensor device and method for detection of gear damage GTR-01
PCE Process Control Electronic GmbH
In cooperation with DELTEC electronic GmbH
The device detects errors through the closed housing.
Essential tasks:
Detection of damaged teeth
Detection of imbalances
Determination of speed and direction of rotation
Continuous monitoring on machines
The evaluation takes place via a special program.

The result can be displayed graphically.
Development of rotational direction sensor
The following extension has been introduced to the existing functions of the rotation direction output:
Download program updates by flashing
Neutralization of environmental magnetic fields eg. WT without examinee (zero balance)
Output of idling speed after startup in the form of a 5V square pulse series
Work is currently in progress on an RS 485 interface. The following additional functions are provided here.
Intended functions: ·
Output idle speed as a numerical value ·
Output of armature error (Lamination short-circuit, open circuit) ·
Test of the sensor on function ·
This functions are selectable by parameterzation

Test for magnet and rotation direction sensors.
Programming of the sensors for magnet measurement or rotation direction measurement.
Zero comparison of the sensor

Repair of

high voltage generators
BV25 und BGC1
Use:
The high voltage generators are components of X-ray equipment.
Fault description:

Due to disintegration of the potting compound it comes to proposals, and thus the destruction of components.