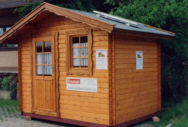 More convenience for your garden shed by a solar system.
For other possible objects independent from the mains.

1 panel 639mm x 652mm 12V 50W
1 Lamp 12V
A charge controller 6A 12V LED
4 mounting brackets
A 140 Ah battery filled and charged
10m cable

The solar kit will be assembled according to customer requirements.
For any questions or special requests, please contact us.